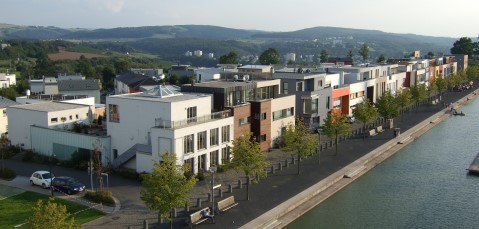 Petrisberg in Trier (Germany): I almost started crying when I saw the prices.
Looking for a place to live in Luxembourg can be very frustrating, after spending 5 weeks searching I certainly understand why almost 150.000 frontaliers prefer to live in neighboring countries. Among my worst experiences:
An apartment that was said to be 100m2 big but turned out to be no larger than 75m2. The tenant also advised me that the landlord would show up unannounced several times per month and liked to bill an unpredictable amount of hours for "gardening work".
A large, modern and affordable house in the north that - judging from the pictures - seemed to have a lot of free space around it, but in fact was located in a crowded, almost inaccessible dark valley. The location perfectly combined the worst of city and country living.
Unresponsive and unmotivated real estate agents who'd call me back 10 days after receiving my inquiry (if they reacted at all), tended to leave me hanging while they went on vacation or simply refused to let me see a place because it was reserved for someone else (for 7 weeks!).
Anyhow, I managed to find a suitable home and I hope the websites and tips below will help you, too:
Most useful websites (IMHO):
http://www.athome.lu - Luxembourg's largest real estate website, also used by many real estate agents to run their own sites. Note: No matter what your sorting order is, premium ads (with a red background) are always shown first! Keep going until you reach the standard ads (gray background).
http://www.immofinder.lu - contains scanned print ads from the Luxemburger Wort and La Voix (in addition to web ads).
Other sites in alphabetical order:
Some tips:
The best deals get snapped up very quickly. Many websites let you set up alerts by email or even SMS (immostar), use these functions to stay informed or return frequently to check for new ads.
If something isn't mentioned or pictured, expect the worst (e.g.: the ad doesn't say the apartment is bright and sunny => it's a dark hole with no windows).
I've had far better experiences dealing with self-employed real estate agents (like Mr. Carlo Reinert) than with larger companies.
Sharing a house with several other people can be much cheaper than renting a tiny studio or room (which have the highest prices per m2). The are also some companies in Lux. offering "house sharing" deals.
Good luck! Feel free to add your experiences or other useful sites in the comments (no SPAM please).